Hello Scrapland! Ok, so apparently my computer sucks at compressing and my internet sucks for uploading! I'm sorry about all the issues we've had with this kit! I promise that I will make sure that everyone who wants it, gets it in it's entirety though! Today I have a pack of six alphas. Four different colored felt baby block alphas and two dotty chipboard alphas.
Here's the kit preview again: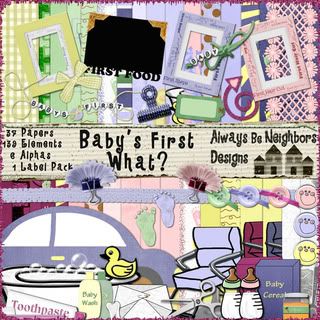 And click the alpha preview to download the alphas from mediafire!
Here's the 4shared link if that one doesn't work for you:
http://www.4shared.com/file/127777208/7bb105ed/ABND_BabysFirstWhat_AlphaPack.html
Let's hope these links go smoothly today!