Hello Scrapland! What a fun and super fast summer! I can't believe it's almost over! My trip to SC to visit Alice was SOOOOO fun! I miss being her neighbor... Well, I'm back and here to let you know that we have a kit in the works, finally! It's going to be a baby kit. I know, so generic, but that's our life right now with the little one's so we kind of have to don't you think?
I also want to tell you about this SUPER cool kit by Scraps of Ellay called "Greased Lightning." It's really great because she did it both boyish and girlish so it's super versitile! Plus it has all of those 50's elements great for a variety of events to scrap! It's on sale until the 15th for $2.99 US. Click the preview to go pick it up!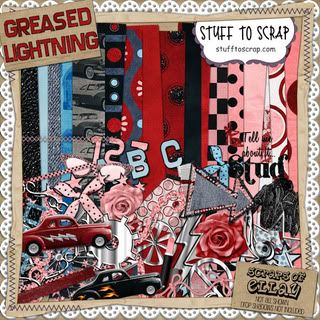 See you soon with a new freebie kit!