Hello Scrapland! I have sooooo much stuff to tell you about today...mostly because I've been busy and the news just kept piling up. Did you know that next month on the 7th is Digital Scrapbooking Day???? Well, let me tell you, Stuff To Scrap is definately prepared, and you will not be bored next month!
Before I get to those details, I wanted to show you a kit by Mad Genius Designs called "Fall Into Fall." She is giving it away for free this week on her blog and next week she will be putting it into the
Stuff To Scrap Store
. It's a Gorgeous kit with perfect fall colors. I love the beautiful papers and alpha, and the elements are so much fun to play with. You don't want to miss this! Here are a couple of pages I did with it: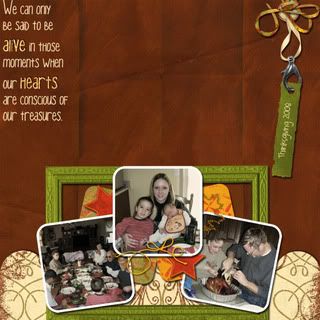 Here's a preview of the whole kit, click on the preview to be taken to her blog:
Ok, so next month there will be a ton of fun stuff for you over at
STS
. EVERY DAY they will have a special 24 hour challenge for you to complete. Here's the schedule for that:
And you have to come visit on the 5th, because that's when yours truly will be hosting!! On the 7th, Digital Scrapbooking Day, there will be someone in the chat room all day with something for you to be doing! How awesome is that?
If that isn't enough, they will be giving a mega kit away for free as a daily download! Make sure to visit the
STS Blog
to pick it up next month! Here's a preview of the super cute kit they are giving away.
AND if you want to stock up for next month's activities, Stuff To Scrap is having a great Halloween sale this weekend! Here are the details for that. Click the sale flier to go to the store for some goodies :)
I hope you got an eye full! I'll be back soon with even more stuff!