Hello Scrapland!  If you haven't heard about it yet, River Rose is having a HUGE celebration to celebrate her 3rd year anniversary of designing!  She has started a new fabulous blog and she is celebrating every day, March 30th, with something new!  Click on the ad to go see her new blog and get the template for the challenge she is having!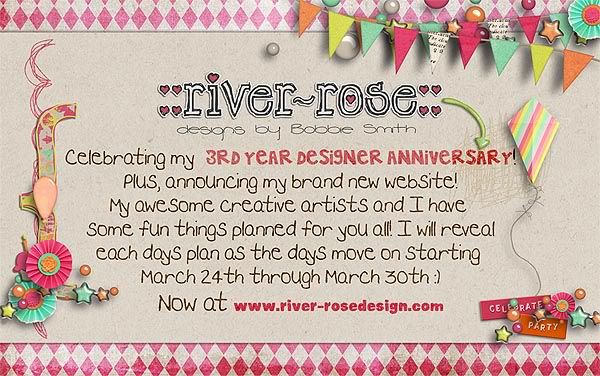 So, as you might have guessed, today the big surprise is a really fun blog train at her blog and all of the River Rose CT members!  What you are getting are a variety of fun freebies using and coordinating with her kit Celebrate!  If you started the train at the River Rose blog, then I'm your last stop, so I'd like to say, Thanks for riding our train!!!
My contribution is a set of 4 brag book pages that are 4x6 that can be used for a variety of pictures.  Click the preview to download:
In case I'm not your last stop, here's the list again!  Oh, and if you didn't find a freebie at Viola's blog, the correct address is in this list! 
River~Rose: http://www.river-rosedesign.com/
Tamara: http://www.yesterdaytodaytamara.blogspot.com/
Simona: http://lightmistress.blogspot.com/
Glynis: http://glynisb.blogspot.com/
Lynn: http://themathematiciansassistant.com/
Jaqueline: http://www.jacquelinesscrapblog.blogspot.com/
Viola: http://violamoni.blogspot.com
Katie: http://alwaysbeneighborsdesigns.blogspot.com/
We hope you had fun and keep stopping by the River Rose blog to see what fun she has in store!