Hello Scrapland! I teamed up with Scraps of Ellay to bring you a fun princess kit with a twist. The original idea came from Alice who buys a lot of Marie stuff for her daughter, you know, the cat from Aristocats? And all daughters are little princesses, so we put the two themes together to bring you "Purrrfect Princess!" The colors are perfect for any disney princess and there is plenty of kit to satisfy you! Here are the kit previews, click on Ellay's to be taken to the store:
Here are some inspirational layouts from the fabulous Stars of Ellay:
From Jodi using my part:
One from Ginger using both kits:
One from Noelle using both kits:
Then I made one using Ellay's kit:
And one using both kits:
And one from me using just my kit: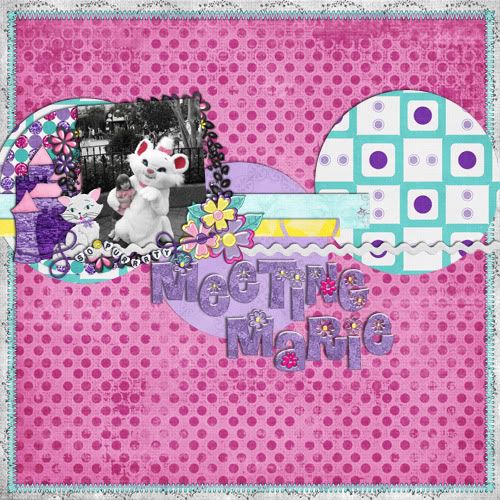 And finally, Ellay, the super scrapper made a few layouts herself!
Three layouts with her portion:
And one with my portion:
Whew, I think that's all! As if that isn't enough! To put the whip cream and cherry on top, if you head over to
Ellay's Blog
, she has a little freebie for you! But if you want my portion of the kit, here are the links: (There is even a bonus alpha made by Alice that you can see in the layout I did with just my kit)
Papers 1
Papers 2
Elements 1
Elements 2
Bonus Alpha
I hope you enjoy! Happy Scrapping!