Hello Scrapland! I hope everyone is having a mighty fine hump day! It's beautiful here in the Chicagoland area again. Bright and sunny, which puts me in a good mood :)
Before I get to today's Booze Hound freebie, I wanted to tell you about a blog train going on right now called "Fairy Tale Wedding." You might have seen it around. It's a forum blog train done by the talented designers that hang out at the Digi-Designs By Nicole forum and it's in beautiful hues of blue/green/purple or maybe periwinkle or something....Well, I'm not too good with colors but they are pretty. Ellay has some really pretty word art up on her site today and I think most of the ladies have almost everything up for downloading already so if you like what you see, head on over! The preview will take you to Ellay's blog and you can head on out from there!
Ok, on to the goodies for today, I am happy to announce that you get ALL of the Booze Hound elements today in one file! Nope, I'm not teasing you like I did with Pool Shark, you get ALL of the drinks and ALL of the other stuff in one shot today! Click the preview to go to the download link and happy scrapping!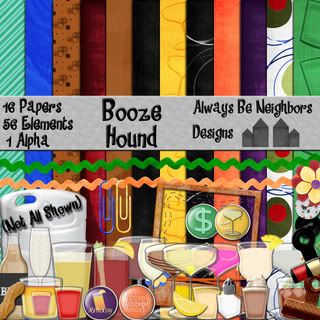 We'll see you back here tomorrow for the alpha! (You have to at least come check it out, Alice made a super cute alpha that fits PERFECTLY with this kit!)