Hello Scrapland! First I wanted to take a minute to thank Ellay for her comments and putting us on her blog! We don't get much traffic around here so those have really brightened our days! Thanks! We are really having fun with these kits and hope that they will get out to people that can use them.
Speaking of, Booze Hound is almost ready so it will be released next week as planned! It's definately it's own kit, but it does color coordinate and completely match up with Pool Shark. So if you were to get both kits, you'd essentially have one mega "bar/drinking/pool" kit good for any of those fun outings or parties with your friends! I would show you a sneak peek but since it's the same colors as Pool Shark, it wouldn't really be worth it :) So, it's a surprise!
You can get the second set of elements, or the "other stuff," for Pool Shark using the link below the preview.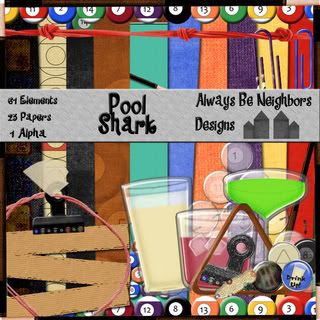 http://www.mediafire.com/?nkyz1gt0jhm
Enjoy! Hope to see you back here tomorrow for the alpha!