Hello Scrapland! I'm posting this the night before because I have a lot to do tomorrow and don't want to rush myself....I'm sure you know how that goes :) I hope everyone is enjoying this kit as much as I enjoyed making it! I can't wait to put out Booze Hound next week! Alice and I have been having a blast working together on it.
Before I get to the alpha, I wanted to show you a super cool kit on sale now at One Single Seed for only $2.50!! It's a very cute baby kit made by Digi-Designs By Nicole called "Little One." I love the colors of the kit! If you have kids you could definately scrap some SUPER cute lo's with it! So, if you would like to get this kit (I mean, how could you pass it up?) just click on the preview to take you right there!
Well, that's all for today so: Click on the alpha preview to take you to the link!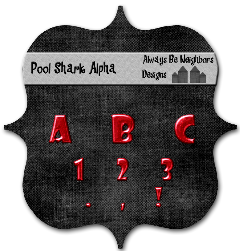 See you next week to bring you some more digital scrapbooking freebies!