Hello Scrapland! I hope you are all having as beautiful a St. Patty's Day as I am here in the Chicagoland area. It's only 9:30am and alreay 59 degrees. (It was aweful last week, tons of rain and before that freezing temperatures and snow) Hopefully I'll make it to the park with my kids today to enjoy some of the sunshine.
Well, if anyone is reading this you are probably here about our new freebie Pool Shark. I made this a couple of months ago because I wanted to scrap the pictures I have of my friends and me playing pool at the local bar and I couldn't find any already made kits out there that would fit my need. Now, if you don't play pool or have pictures of someone playing pool but you do have bar pictures, you can pick up the papers and elements of this kit and I have recently decided to do an addon (which will probably become a full kit itself) more geared towards bar stuff. It's called Booze Hound, so come on back to check that out sometime next week!
Here are the layouts I did using Pool Shark: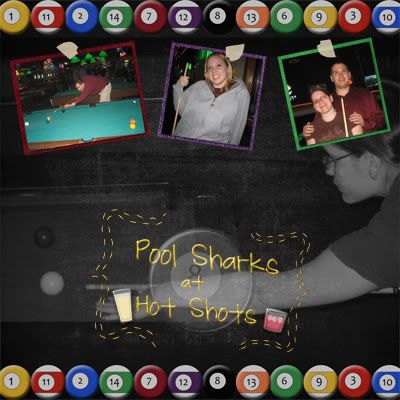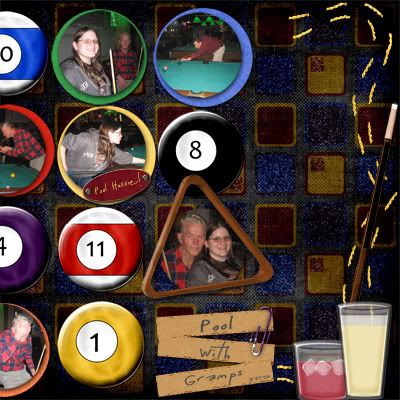 And here is a preview of the kit. The download links for the papers are under the preview. Come back tomorrow for the elements!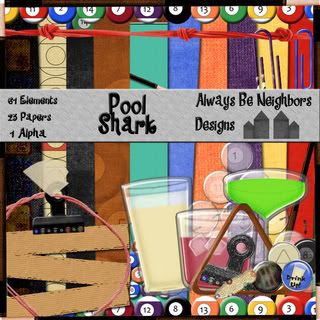 Papers 1:
http://www.mediafire.com/?2jmyynnuzot
Papers 2:
http://www.mediafire.com/?avmnhor4mzm
BTW the first layout was done using a template by MandaK of
http://mrsmooshka.blogspot.com/
for a challenge at the Digi Designs By Nicole forum and the second layout used a template by ChrissyW of
www.chrissywdigital.blogspot.com
Thanks for visiting and Happy St. Patricks Day!