Hello Scrapland! I would like to talk about the file names so nobody gets confused. I have found in a lot of other kits out there that the designers name their files the generic element 1..2..3 and paper 1..2..3 and when I'm looking for a specific element or paper I have to wait for the thumbnails to load in order to find it. It's not that big of a deal, I'm just an impatient person sometimes. Well, you'll probably have to do the same thing with my kits (hehe, you thought I was going to make it easy for you didn't you?), but I enjoy playing around so almost all of my files will have relatively strange names. I hope you can get a little enjoyment out of my madness, but if you can't, that's too bad. You'll still have the kit to play with and maybe you can get some enjoyment from that!
I also wanted to let you all know that sometime next week we will be releasing a Pool Shark kit loaded with billiard papers and elements and even a couple of drinks since I always play pool in a bar when I play. It's the first kit I made and I was really happy with it so come back and check it out!!
Now for today's freebie. You get the elements for Kinda Springy today and tomorrow I have a chipboard alpha to go with it, so come back if you're interested!
Link is below the preview.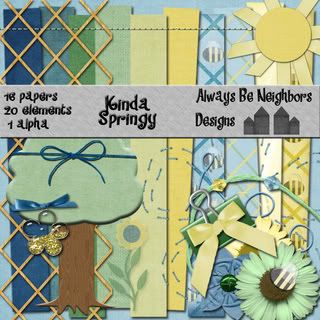 http://www.mediafire.com/file/2wttnjwj2wy/ABNDKindaSpringyElements.zip