Hello Scrapland! I have some more fun news from
Stuff to Scrap
. First, I want to tell you that I'm now CTing for SAHM Scrapper! She's one of the Stuff to Scrap designers and her kits are beautiful! I'm super excited to be joining her team. And I joined her team just in time for her 50% off sale! How fun is that? Now until November 6th, her entire store is half off. If you want to go over and check out her stuff, click the flier to be taken!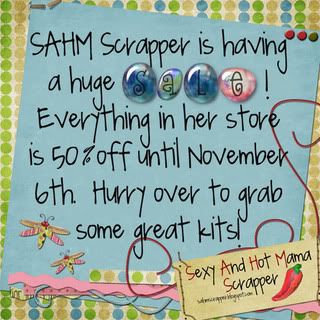 Also, if you didn't already know, the
Stuff to Scrap forum
has a TON of challenges. One of those challenges is the Quickpage Exchange. How it works is, you purchase the kit that the Exchange is working with that month, you make a quickpage with it, then you get ALL of the quickpages that everyone else made for the challenge as well at the end of the month! You easily get a whole books worth of pages if you participate! This month the kit is "Pilgrimage Home" by The Scrappy Kat and it's Super cute! If you want to participate in the Quickpage Exchange this month you can click on the kit preview to be taken to the store, and then click on the flier to be taken to the forum. (Oh yeah, and this kit is 30% off this month!)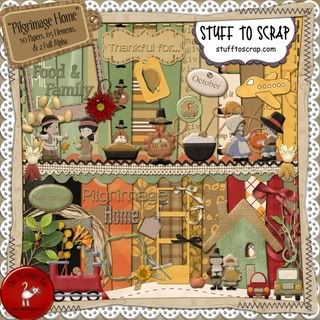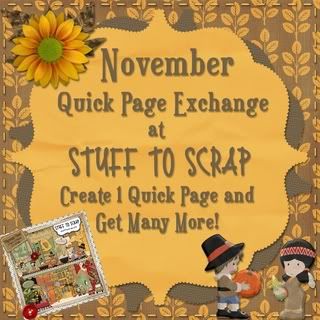 And if I haven't given you enough stuff to think about, there is a speed scrap tomorrow! It's a morning speed scrap and it's hosted by the one and only Stuff to Scrap owner, Digi-Designs by Nicole! There's a preview of the participation prize below the flier. Click the flier to be taken to the speed scrap!
I hope you saw something you liked! See you again soon!