Hello Scrapland! I hope everyone is having a great week! I grilled by myself for the first time on monday. It turned out awesome! I found a jalepeno stuffed chicken recipe on allrecipes.com and it was fabulous. Everyone loved it, including my neighbor who doesn't like any spice at all. Here's the link if anyone is curious:
Jalepeno Stuffed Chicken II
Ok enough chatting, let's get to the goodies.
Here's the alpha for "A Very Starry Night":
Click the preview to download.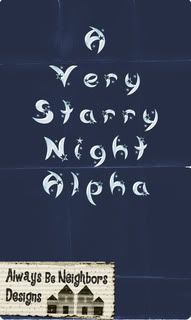 We'll be back soon with more goodies!